With This Ring is an independent documentary about the women who make up the Indian national boxing team. Filmed over the course of six years in four countries.
Directed and produced by Ameesha Joshi & Anna Sarkissian | Featuring boxers Sarita Devi, MC Mary Kom and Chhoto Loura | Running time 90 mins | Country of origin Canada | Production 2006-2012 | Post-production 2013-2015 | World Premiere January 30, 2016
Awards Emerging Director, Documentary - Asian American International Film Festival | Honourable Mention - Mosaic International South Asian Film Festival
Festivals World Premiere: Mumbai International Film Festival, Mumbai, India | Opening Film: Cinema of Resistance Film Festival, Indore, India | Asian American International Film Festival, New York, United States | Atlantic Film Festival, Halifax, Canada | Chicago South Asian Film Festival, Chicago, United States | Mosaic International South Asian Film Festival, Mississauga, Canada | New York Indian Independent Film Festival, New York, United States

Screenings Amity University School of Communication, Noida, India | antiSOCIAL, New Delhi, India | Cinema Politica, Concordia University, Montreal, Canada | Film and Television Institute of India, Pune, India | The Humming Tree, Bangalore, India | India International Centre, Delhi, India | Maharaja Sayajirao University University of Baroda, Vadodara, India | National Institute of Design, Ahmedabad, India | Rotary Centre for the Arts, Kelowna, Canada | University of British Columbia, Vancouver, Canada | University of Oxford, Oxford, United Kingdom | University of Northern British Columbia, Prince George, Canada

Want to organize a screening? Please get in touch.
DVD on sale now to educational institutions in the US and Canada via The Cinema Guild.
Our project started back in 2005, when Ameesha attended the World Press Photo exhibit in Montreal. She saw images of girls boxing on the beach in Chennai, India, by Danish photographer Miriam K.S. Dalsgaard. Growing up in an Indian household in Toronto, Ontario, she knew about the pressure young Indian women face to get married and how challenging it must be for them to pursue boxing.

After doing some research, she discovered that India not only had extensive boxing infrastructure for women, but also many international medals. At that point, she teamed up with Anna and flew to India for the 4th AIBA World Women's Boxing Championships, where the Indians made a clean sweep, winning medals in eight out of 13 categories. They became the number one team in the world.

With the help of numerous friends and volunteers, we documented the boxers' lives for the next six years.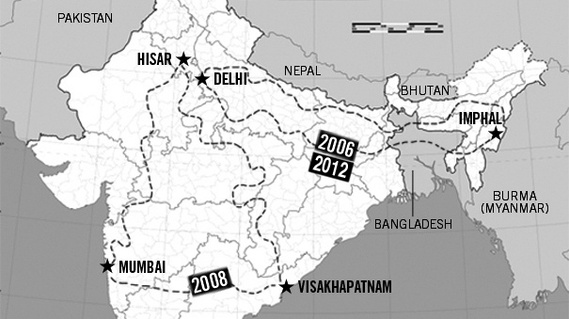 Travels in India
The boxers spend most of the year at national training camps in various parts of India. We lived with them to document their lives and intense regimen.
Every month or so, they return home to their families. We followed boxers Sarita Devi and MC Mary Kom to Imphal, Manipur, in the northeast, and Chhoto Loura to Balsamand near Hisar, Haryana. We spent time in Delhi and Mumbai as well, interviewing athletes, coaches and officials.

We also ate incredibly well (maybe a little too well) and were warmly received by wonderful hosts along the way. They have this expression that a guest is like God. There's nothing quite like Indian hospitality.

Logging and translation
We started by taking detailed notes about the 200+ hours of footage we collected. Ameesha worked with a huge team of volunteer translators to subtitle interviews in Hindi, Manipuri, and nine other languages. Our good friend (and talented filmmaker) Tamara Taddeo helped us begin to shape the film. With so many characters and locations, we could have easily made five or six different documentaries.

Outreach

Along the way, we presented our project in classrooms and at conferences across Canada. We blogged for the National Film Board of Canada's CitizenShift (sadly it's no longer online) and spread the word using social media. The project was featured in Canadian and Indian magazines, newspapers, and websites.

The search

In 2012, we started looking for an editor. Since this was our first feature and we had so much footage, we wanted someone with experience and the right artistic approach. We met with many exceptional editors but couldn't afford to pay the industry rates of $30,000-40,000. After searching for nearly two years, we found the ideal candidate. Only problem was, she was a little too good (and therefore booked solid). We decided she was worth the wait.
A long-distance relationship

We finally started collaborating with Jackie Dzuba in January 2014. Throughout the editing process, we were based in Quebec while Jackie was 5,000 km away in western Canada. We met on Skype to exchange ideas and we reviewed cuts via Vimeo. It took a long time and we faced many hurdles, but we made it. We finally met Jackie (and her assistant editor, Baybee, above), in July 2015 for the first time.
We would like to express our sincere appreciation to everyone who liked, shared, and contributed to our project in any capacity.

Our budget was modest and we benefitted significantly from the generosity of many people we met along the way. We received several government grants but eventually ran out of financing options. As a condition of the artist grants we received, we needed to maintain full creative control of the project and so could not take money from executive producers and many other agencies.

Indiegogo
In August 2012, we reached out to our families, friends and supporters and asked for their help to fund the completion of our film. Through our crowdfunding campaign on Indiegogo, we raised over $21,000 online and in cash donations.
Thanks to your support, we were able to somehow convince several talented, experienced and in-demand professional artists to work on the film for months (and in some cases, years) for a small fraction of their usual rates. We are eternally grateful.
Thank you for your contributions!
ANONYMOUS
Adam Budd
Aisling O'Gorman
Alex Jansen
Alexander Carson
Alexandra Hubert
Alexandre Leblanc
Alexandre Saxena
Alphonsie Nicolas
Amber Goodwyn
Amely Jurgenliemk
Andrew
Andrew Cutts
Andrew Jarjour
Andrew Lima
Andrew Wanliss-Orlebar
Andrew Wanner
Angela Kaida
Angela Li
Angela Restuccia
Anil Sanwalka
Anne-Renée Hotte
Antoine White Goodridge
Aonan Yang
Arnica Rowan
Asher Vijay Yampolsky
Ashwani, Amit, Pinki Jangra
Avani Parikh
Bao-Khanh Nguyen
Benson Li
Bita Haidarian Nossa
Bonnie Coxford
Bruce Carlini & Julia Talajic
Carol Chong & Doug Smith
Catherine Russell
Cheryl Donison
Chris Dyer
Chris Kang
Chris Malone
Chris Wilson-Smith
Christoph Monig
Cinema Politica
Coleen Smith
Colin Raines
Curtis Lobb
Dabet & Sarah
Dahiana Torres
Darren Budd
Daryl Aitken
David Goligorsky
David Weatherall
Deb Vanslet
Debbie Welch
Debra Gehring
Devin & Hyun Joo Joshi
Dora Magovern
Doru Lupeneau
Earl Hong Tai
Eddie Menz
Elana Bannerman
Eliane Elbogen
Ellen & Glen Budd
Elvire Thouvenot-Nitzan
Emilie Gauthier
Emilie Rousseau
Emily Cholette
Emily Gan
Emily Pelstring
Emmanuel Labat
Eric Kitchen
Faisal Sheniib
François Bastien
Gavin Fernandes
Geraldine Taddeo
Gina Haraszti
Gopal Rengasamy (For my daughters)
Gordon Bradley
Gord Budd
Gouri Prasad Kadakia
Grace Cirocco
Greg Wallace
Hasit & Martina Shukla
Hayley Baines
Hayley Porteous
Herma Marie Handinero
Hisako Noguchi
Hui WangIla Jadav
Isabella Salas
Isabelle Lemay
Jackie Gallant
James Allison
James Yoxall
Jane Meletis
Janice Hilsen
Jatinder Grewal
Jeanne Gan
Jeannine McNeil
Jeffery Talajic
Jennifer Cholette
Jennifer McGuire
Jenny Lin
Jerome Bel
Jerome Dunn
Jessica Auer
Johanne Pelletier
John Christou
John Kerns
Josée Pedneault
Josh Curk
Josh Usheroff - Black Box Productions
Juan Esteban Diaz
Julia & Benton
Julian Ua'Siaghail
Julie Lang
Julie Lapointe
Julien Grégoire
Justin Desforges
K M Parizeau
Kaoru Matsui
Karen Teohkatherine benz
Kevin Laforest
Khurram Shehzad
Kirit Shah
Kirsten Cameron
Kristopher Woofter
Kyle Stanfield
Leilani Cleveland Deveau & Rick Deveau
Leonora Gangadeen-King
Lisa Bledsoe
Lisa Frigand
Lisa Graves
Liz Cormier
Liz Miller
Loretta Walton-Meyer
Louis-Charles
Louise Jones
Madhu Raju
Malissa Smith
Manas Malhotra
Marc Almon
Maria Santaguida
Marie Marguerite Sabonguy
Marie McDonough
Marie Pierre Lardeau
Marina Popova
Marina Stathopoulos
Mario Talajic
Mark Emil Hermansen
Mary Wichterle
Mathieu Gagnon
Matthew Bell
Matthew Wiviott
Maya Yampolsky
Meenakshi Malhotra
Megan Armitage
Megan Carlson
Mia Donovan
Michael Maher
Michael Murray
Michael O'Neill
Michael-Oliver Harding
Mimi Tang
Mimi Zhou
Minh Tu Ngoc Nguyen
Mona Sharma
Myriam Augustin
Nancy McGuire
Nancy Tang
Natalie Donaher
Neil McAlpine & Parool Joshi
Nicholas Martin
Nicole Guillemet
Nika Khanjani
Noa Seger
Olga Schroeder
Olive Bailey
Olivier Marchand
Ondine Roche
Pamela Rigden-Snead
Paresh Shukla
Patrick Devey
Paul & Meena Cleland
Paula & Zaven Sarkissian
Paula Irving
Peggy Olsen
Pen Hsia Ku
Peter Rist
Peter Simpson
Phillipe Rostaing
Pierre Tanguay
Pravin Premkumar
Priya Shah
Priya Vaughan
Rachel Birrell
Rachel Donaldson
Rachelle Yoxall
Raewyn Curtis
Raiomond Mirza
Raymond Boucher
Rebecca Stievater
Rina Kamath
Robert Soroka
Robin Elliott
Roger Maclean
Roger Tellier-Craig
Rohan Pai
Rory Sarkissian
Rosanna Maule
Runa Bhattacharjee
Russ Cooper
Russell Sinclair
Ruth Kaaserer
Sabrina Ratté
Sachin Prabu
Sandeep Bhagwati
Sandra Parente
Sanjay Gokani
Sarah Barr
Sarah Gehrig
Sarah Gotowka
Sarah Pinchevsky
Sasha Miguel
Sheena Starky
Shelagh Peden
Shivani Manghnani
Simon & Lea
Simon Horn
Simon Shu
Stephane Grasso
Stephanie Yorke
Stephen Shaw
Steve Faguy
Stillfighting.org (Jay Vanian)
Sue Johnson
Susan Binder
Suzan Gan
Suzanne Rupp
Taien Ng-Chan
Tamara Taddeo
Tamisha Harris
Tanis Keiner
Taylor Frawley
Tery Palmer
Thelma Dunn
Thomas Destugues
Todd Langille
Tracey Lindeman
Uadita Chandra Kumar
Vachasputi Joshi
Valère Gauthier
Vincent Toi
William Straw
William Vallieres
Xi Feng
Xiaodan He
Xiaojing Ge
Yvonne Caples
Zachary Finkelstein
Zachary Kenny
Zoe Constantinides
Zoë Meletis
Zoë Westhof
N.B. To our funders, names are listed as promised on the campaign page. If you decide you'd rather be incognito, just say the word. We understand completely and want to respect your privacy. Thank you for your support!



Equipment

We also want to sincerely thank several people who trusted us with their equipment when we didn't have any (in 2006) or when we needed a few extra bells and whistles (in 2012): Rohan Fernando, Tamara Taddeo, Kirsten Cameron, and Van Royko.