"There's a big stereotype about Indian women. Great big eyes, long hair, docile and demure... and they'll make chapatis for you. It's remarkable that these boxers have come so far. I'm sure they've faced a lot of ridicule and opposition that they don't tell people about." –Sharda Ugra, sports journalist

Little recognition
Indian society has yet to fully accept the short hair and track pants associated with women's boxing. However, things have improved dramatically since we started making this film. In 2006, they were the best team in the world and nobody cared. At the London 2012 Olympics, Mary Kom became the third Indian woman in history to win an Olympic medal. Success followed overnight. Other boxers are also gaining recognition on social media.

Government support

The athletes have considerable support from the Sports Authority of India. Their food, lodging, healthcare and education is covered. The facilities are not great but there are other perks: they travel extensively to international competitions with a full roster, which is rare. Meanwhile, the Canadian boxers we met were juggling 9-5 jobs and raising money to pay their way to the world championships.
Set for life

When Indian athletes become national champions, they are rewarded with stable government jobs. Many of the boxers have positions as railway clerks or police officers in name only. They collect a salary (and pension) but only have to show up for work a few days per year. This financial independence allows them to pay for their own clothes and their own mobile phone. Some end up supporting their husbands and extended family.

Training camps

The boxers spend most of their time away from home at national training camps with 35-40 of the top boxers in the country. Living together in dormitories, they focus only on boxing. They train two to three times a day, six days a week.

Medals matter

Initially, some families are reluctant to allow young women to try boxing, worried it will hurt their chances of getting married. Their attitudes often change as the medals and financial rewards start to roll in.

Husbands...

By the age of 18, women from rural parts of India are strongly urged to find a husband and settle down. Though a few are married, most of the boxers are in their mid-twenties and still unmarried.
...and children

It's challenging to continue boxing after marriage and especially with children. Even the most successful boxers feel pressured to stop, with their families saying, "it's enough now."

Sarita Devi
It's impossible not to notice Sarita. Every time she lands a punch, she lets out a high-pitched, warrior-like scream. This 2006 world champion is mesmerizing to watch and arguably the fittest athlete on the team.
Her home state of Manipur is one of the poorest in India, but consistently produces world-class athletes. In the rest of India, Manipuris are sometimes mistaken for Tibetans or Chinese and treated like outsiders. Growing up, Sarita wasn't typically "feminine" and was the only girl in her small village to wear jeans instead of the traditional Manipuri skirt, called a kumin.
Sarita made headlines around the world for refusing her bronze at the Asian Games in 2014, saying the fight was fixed. Her next target: the 2016 Games in Rio.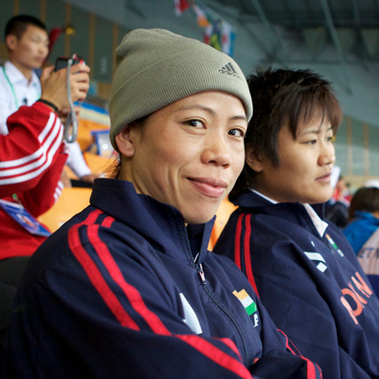 MC Mary Kom
As the first amateur boxer (male or female) to win five consecutive world championships, Mary is a boxing legend. Up until her bronze at the Olympics in 2012, most Indians had never heard of her. Today, she is a mega star with her own Bollywood biopic (starring Priyanka Chopra).

In 2006, she hung up her gloves to start a family. Two years later, she returned to the ring with her twins in her arms. She trained during the day, and nursed at night.

Born Mangte Chungneijang, her teammates nicknamed her Mary because of her devotion to Jesus. She attributes her success to her faith in God. The name stuck and the medals have been pouring in.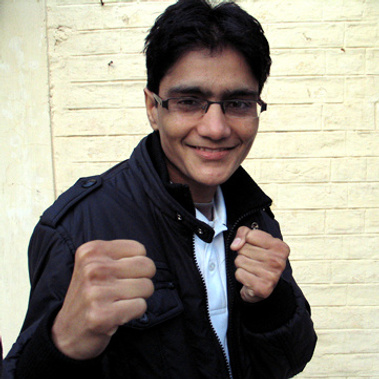 Chhoto Loura
Chhoto Loura is tough as nails. If strangers confuse her for a boy, she laughs it off. The boxers and coaches call her Chhoto Didi, which is a sign of respect that translates to "older sister." She earned the title because of her extraordinary strength as a boxer and a survivor.
In 2002, her body was crushed by a truck and doctors did not expect her to live. Chhoto started taking small steps. Her doctors were baffled. "I wanted to box again, it's as simple as that," she said after winning bronze at the 2006 world championships.
During a trip to her home village in 2008, her cousin told us that she was the only woman in the village who "got out" and lived independently of a man. Chhoto relishes her freedom.